Designed from consultation with safety experts.
The Guardian II
Inflatable dry bag for safety in open water
Weight 0.56 kg
Dimensions deflated: (CM): 70L / 37W
Dimensions Inflated: (CM): 51L / 26W / 20D
Buoyancy 13 kg
Max load: 5 kg
Fabric: Nylon, PVC
SOLAS
Reflective materials approved by U.S. coastguard.
Inflatable
Floats on water.
Designed with safety experts
Safety whistle
Attract attention of help or other water users.
Product description
The open water Guardian is an inflatable dry bag for swimmers, kayakers, stand up paddlers and sailors. The features were designed by consulting safety experts to create a kit bag that would be buoyant and visible to Search and Rescue services and other water users. Featuring U.S. coastguard approved reflective SOLAS material, marine safety whistle and two inflatable chambers the bag can be used for buoyancy, to tow kit when open water swimming or to stow kit when on craft above the water.
Features
The SOLAS* reflective materials make the pack more visible in low light and performs in wet and dry conditions.
*SOLAS (Safety Of Lives At Sea) is a reflective material approved by the U.S. Coastguard.
Dual sided inflatable chambers
Boston valve for inflate / deflate
18L storage
ISO-12402-8 Marine safety whistle
Roll top closure
SOLAS reflective material
Adjustable swim belt
2 carry handles
Stainless Steel Carabiner
Guardian II – specification updates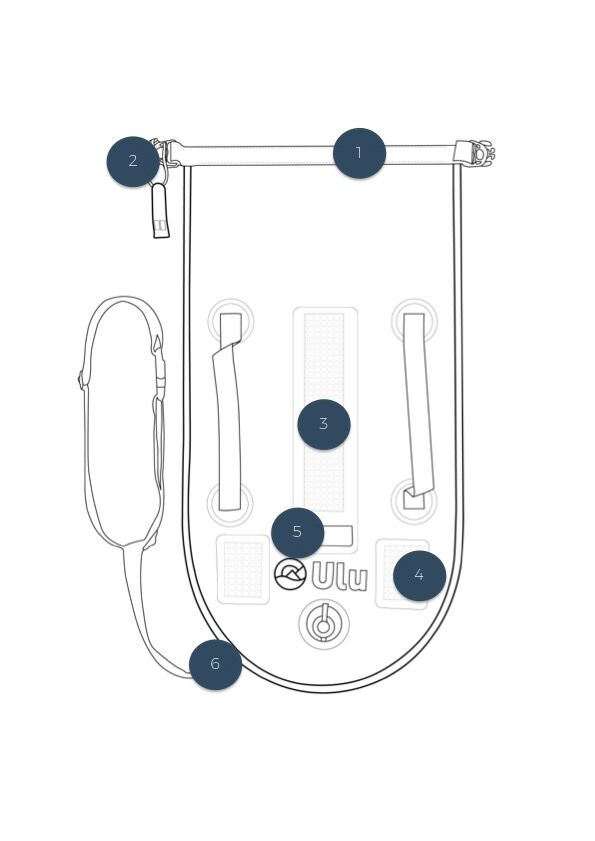 1. WATERPROOF CLOSURE
removed webbing to stop water wicking inside the bag and create a more water repellant closure system
2. CHORD LANYARD FOR SAFETY WHISTLE
waterproof and durable
3. NEW SPECIFICATION SOLAS REFLECTIVE MATERIAL
more hard wearing and durable
4. SIDE SOLAS REFLECTIVE PANELS
Increased visibility for search lights at water level
5. CENTRAL WEBBING ATTACHMENT
area for safety light on the highest point of the bag for increased visibility
6. WIRE GATE CARABINER
stronger and more hard wearing
Safety advice from RNLI Lifeguard
The use of reflective materials on tow floats and inflatable dry bags is the intellectual property of Ulu Adventure Ltd. and protected under UK law by Registered Design No. 6099048, 6099049, 6099050, 6099051